Introduction
Cross RC EMO X is not the first model to have EMO in the name. In the past, we've examined the EMO AT4. (You can find the review here, along with a video). Until now, the EMO range has been a 1/10 scale family of crawlers. They're known for their rugged capability and impressive features like remote locking differentials and two-speed transmissions above portal axles. However, the Cross RC EMO X breaks from this, hulking up to 1/8 scale. This is not your average RC crawler— it's so much bigger!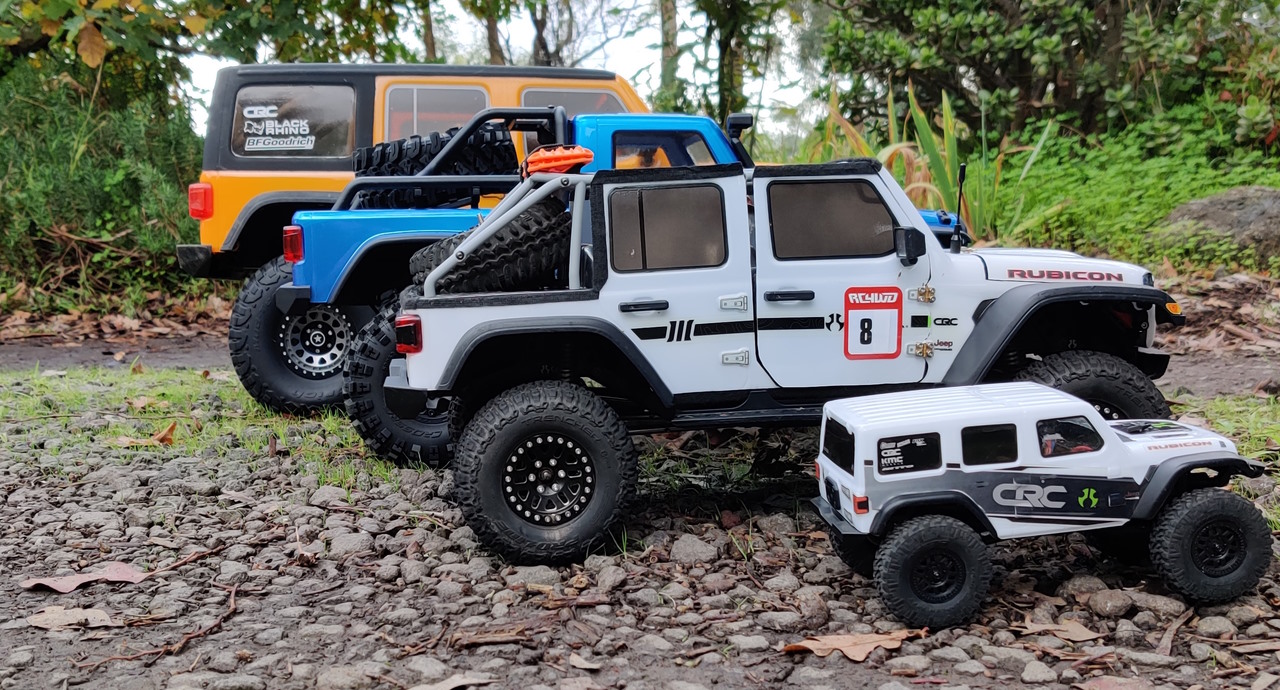 Overview
With a weight of 17lb (7.7kg) and dimensions 575 x 300 x 271mm, the EMO X commands attention wherever it goes. She's a hefty beastie!
It comes in three striking colors: Bright Yellow, Metallic Blue, and Silver. Its design blends aggressive lines with the classic appearance of a rugged off-road truck. Note, there's no licensed branding on this vehicle.
Equipped with features like a simulated driver, hidden body mounts and a full-size spare tire, the EMO X is thoughtfully designed. The shell is a mix of high-quality polycarbonate (or 'Lexan') and durable plastic pieces, ensuring exceptional ruggedness and longevity.
Cross RC Swag!
Inside the Cross RC EMO X box, you'll find an assortment of items. Alongside the impressive RC crawler itself, you'll receive a set of quality Cross RC tools, a Cross RC baseball cap and Cross RC lanyard. None of this is necessary but it's all awesome! There's also a styrene 'EMO-X' piece still on its parts tree off-cut. Then, there's all the usual inclusions you would expect. Notably, the manual provided is comprehensive and detailed, enabling you to disassemble and rebuild the vehicle with confidence. The sticker sheets are nice, too.
Radio
The EMO X is equipped with a 6-channel 2.4g transmitter and receiver, made by DumboRC. This one is special in that it delivers something I wish more manufacturers would do: every switch or button is clearly labelled! That's super helpful. The other feature I love that DumboRC does is the buttons will light up when they're engaged. No more guesswork on whether a diff is locked or what gear you're in. I love it!
This handset series is known for providing reliable and responsive control. With its independent lock control, you have the ability to control the front and rear differentials separately or engage both simultaneously. You also have high and low gear and a light mode control button – more on that below. The trigger and wheel feel good in the hand and the handset takes 4x AA batteries. For an RTR radio, wow, this one sure is nice!
​
Body Details
The EMO X stands out with its impressive design and durable construction. It features a simulated racing driver, adding a touch of realism. The hidden mounts keep the body securely fastened during intense off-road driving. The full-size spare tire enhances its rugged appearance – the tire lugs are properly chunky!
A light control module is mounted underneath the shell and all wiring is routed neatly, helping keep things from catching where they shouldn't. The body connects via a single Futaba-style radio plug that detaches easily when you remove the body, but otherwise stays connected.
There are detailed plastic trim pieces all around and even a metal front grille, next to trick, multi-feature headlights. Typical for Cross RC, this body is a smart and durable unit and it looks great.
Chassis
The EMO X incorporates a low center of gravity layout, enhancing stability and control. The strategic placement of the battery at the front between the shock towers allows for easy adjustment of the vehicle's climbing characteristics. Use a smaller battery to improve CoG or slap a bigger brick in for longer running. Being over the front axles, the extra weight isn't as bad as if it was over the rear.
The rig has a 375mm wheelbase, solid axle suspension system, stainless steel link rods, front panhard bar, rear 4 link and rear balance bar. It's a rigid chassis with metal where its needed and flexible but strong plastic where weight-saving is more important. The bumpers blend well with the body and overall the rig has a durable feel. I hadn't driven it at this part of the inspection and it was already looking like being one of my favorite crawlers.
Transmission & Drive Train
The EMO X boasts a robust transmission and drive train. Cross RC has a lot of history delivering reliable power delivery the EMO X will be no different:
Big Motor & Tough Parts
The 4X4 drive system of the EMO X is equipped with a 25-Turn 560-size brushed motor. It's mated to a 2-speed transmission, featuring metal gears throughout. This combination offers excellent torque at a slightly reduced acceleration potential (longer motor means more mass – a good choice for this rig). The CVD drive shafts and metal u-joints, sealed bearings and friendly gearing ratios contribute to the overall durability and reliability of the power delivery system.
Lockable Portal Axles
One notable feature of the EMO X is its lockable portal axles. These axles have durable, nylon housings and metal internal gears. Portals give you increased ground clearance and improved torque delivery, eliminating torque twist. The lockable differential feature ensures maximum traction and improved maneuverability in demanding terrains. Plus, you know, it's fun! With the ability to remotely lock and unlock the differentials, you have greater control over the power distribution to the wheels. It's not for everyone, but I've always been a fan.
Transmission & Slipper
The transmission and drive train components of the EMO X have been designed for durability and performance. Finger-friendly, adjustable slipper clutch, strengthened 60t spur gear, and 20t metal pinion gear comprise the main input. The final drive ratio, with options of 17.8 (high speed) and 38.9 (low speed), provides the flexibility to adapt to various terrains and driving conditions.
More Than Its Parts
The combination of the 2-speed transmission, lockable portal axles, and reliable drive train components ensures that the EMO X is ready to conquer any off-road challenge. Whether you're crawling over rocks, navigating steep inclines, or powering through muddy trails, the EMO X's transmission and drive train deliver the power and control you need for thrilling off-road adventures.
Lighting System
The EMO X is equipped with an impressive lighting system. It is conveniently controlled by a single channel, which can be operated through a button on the radio transmitter, clearly marked with a light symbol. You can cycle through the various lighting modes available on the vehicle with a single button press.
One of the notable features of the lighting system is the position lights. When you're crawling or navigating challenging terrain, these lights blink to provide enhanced visibility. In addition to the standard position lights, the EMO X features an angel eye position light, which adds a unique touch to its overall appearance.
The lighting system is designed to illuminate in a specific sequence. Initially, you will have just the position lights activated, followed by low beam lights, and finally, the third position will engage the full power forward lights. The rear lighting setup is equally impressive. It completes the overall lighting package of the vehicle, ensuring that it stands out even from behind.
Links & Suspension
The EMO X features a well-designed suspension system that ensures optimal performance and durability during off-road driving. The rear suspension utilizes a standard 4-link setup with coil-over shocks, providing excellent articulation and control. However, what sets the EMO X apart is the unique addition of what Cross RC calls the 'balance bar'.
What Linkage?
The 'balance bar' consists of a link connected to each end of the axle, which then connects to a center-mounted pivot arm on the chassis. This innovative design allows for a dynamic response when encountering uneven terrain. Believe it or not, this design is hundreds of years old! (See Watt's Linkage on Wikipedia). When one side of the axle is raised, the center bar pivots, drawing the other side of the axle up slightly. Essentially, this system performs somewhat like a sway bar or anti-roll bar.
The rear balance bar offers several benefits to the EMO X's overall performance. Firstly, it enhances stability by minimizing body roll and controlling the weight transfer during cornering or uneven surfaces. The pivoting action of the center bar effectively counteracts the forces exerted on the vehicle, resulting in improved handling and traction.
Another notable advantage of this system is its ruggedness and simplicity. Traditional sway bar systems can sometimes become stuck or damaged by mud or debris encountered during off-road driving. In contrast, the EMO X's rear balance bar utilizes larger-sized materials and a straightforward mechanical design, making it considerably more robust. This ensures that the suspension system remains functional even in demanding off-road conditions, providing reliable performance without compromising durability.
Overall
The combination of the standard 4-link suspension setup, coil-over shocks, and the rear balance bar makes the EMO X a capable and reliable off-road crawler. The suspension system allows for excellent articulation and control, while the rear balance bar adds an extra layer of stability and control during challenging maneuvers. Whether you're navigating rocky trails, crawling over obstacles, or tackling uneven terrain, the EMO X's suspension system ensures a smooth and controlled ride.
Servos
The EMO X is equipped with high-quality servos that not only deliver precise and accurate control but also offer convenient operation. One of the standout features of the EMO X's servos is their differential lock control, which requires no trimming or end point adjustment. These servos are designed to "just work" at 100% EPA (End Point Adjustment) due to their mechanically adjustable design.
Unlike some other RC crawlers that may require manual adjustments and fine-tuning to achieve optimal performance, the EMO X simplifies the process. With the differential lock servos set at 100% stroke, you can rest assured that they will operate flawlessly without the need for additional adjustments. This ensures optimal performance without the risk of burning out the servos or compromising their functionality.
The innovative self-lubricating steel wire assembly of the differential lock servos makes them water and dust-proof, allowing for quick and secure locking in seconds. This means that you can engage or disengage the differential locks effortlessly, enhancing the versatility and excitement of your off-road adventures.
With a 6-channel remote control, you can independently lock the front and rear differentials. The radio will indicate what's happening under the car. Honestly, it's a simple but brilliant system.
The steering servo is a 23kg coreless unit with alu housing. Part of why I like Cross RC so much is their choice to not scrimp on components where they could have. The ESC and motor are premium, as are the servos here. Awesome.
Wheels & Tires
The EMO X is equipped with Cross RC Talon 136X55 R2.2 high-performance crawler tires mounted on 2.2″ bead lock wheels. These tires are specifically designed to deliver superior grip and durability. With their larger studs, snow lines, and high-grip tire wall, they provide exceptional traction on a variety of surfaces. Measuring 136mm in diameter and 55mm in width, these tires offer compatibility with common 2.2-inch wheels in the market. The lightweight nylon clip wheel hubs reduce the load on the shaft and enhance the dynamic performance of the vehicle.
Conclusion
The Cross RC EMO X 1/8 RTR RC Crawler is an outstanding off-road vehicle that exceeds expectations in terms of build quality, advanced features, and thrilling performance. Its exceptional design, durable construction, and attention to detail make it a dream come true for off-road enthusiasts seeking something a bit bigger than the norm. From its rugged appearance and imposing presence to its innovative components and precise control, the EMO X is ready to unleash your passion for off-road exploration like never before.
Cross RC has once again proven its commitment to delivering outstanding RC crawlers with the EMO X. So, gear up, take the wheel, and let the EMO X take you on unforgettable off-road journeys. It's time to explore new horizons and push the limits of your off-road adventures with the Cross RC EMO X 1/8 RTR RC Crawler.
Find the Manufacturer's website for this rig here: https://www.crossrc.us/shop/emo-x-rtr/
This is not a sponsored article. We bought this one at full price. Stay tuned for the running and review video, which we'll link here soon (late May 2023). Thanks for reading!
Craig Veness
RC-TNT
Craig has been into radio control since the 90s and into RC crawling since about 2010, when a Losi MRC started the obsession! Now it's all rocks this and crawl that and upgrade all the things! ...You know how it is, right? Welcome home 🙂